In general, I try to post reviews within a few weeks of picking up something. However, when I first bought my XD-S I wasn't publishing reviews of anything but software and, given it has become my everyday carry, I thought it deserved a review of its own. It's no secret that I've always been a 1911 fan; why wouldn't I be? The 1911 design is classic. It's been considered by many to be the pinnacle of handgun design for a century, it's rugged, dependable and has served our military with distinction in two world wars. But, for all its advantages, it's simply not designed for carry.
I probably lost a few people there, but bear with me a second. I know lots of people who carry full-size 1911s every day. I've carried a 1911 numerous times myself. After all, it's a single-stack design and not all 1911s are built on a five-inch frame. But… I wanted a carry weapon that put me outside of my comfort zone a little bit, so I started researching. After months of researching and getting as much hands-on time as possible with the top contenders, I fell in love with the feel of the XD-S.
First Glance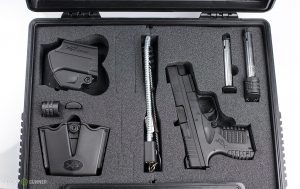 This is not the first Springfield I've purchased, and it probably won't be the last. In a world where many weapons are delivered in a fairly basic cardboard box, Springfield doesn't disappoint. The XD-S comes in a remarkably well-built hard plastic lockable case that's packed full of goodies. Before we get to the XD-S itself, I think it's worth running through a quick overview of the extras.
To start with, they provide a simple, hard plastic pancake holster. It's not impressive in any way, but it's nice of them to include. Let's be honest, by the time you finally settle on the holster, you'll probably have a drawer full of them anyway. They also include a hard plastic magazine carrier, which probably falls into the same category as the holster for most people. I know that the first two things I purchased after the XD-S itself were a new holster and mag carrier. Also in the box are one seven and one eight round magazine and the obligatory handgun lock. So… the majority of the goodies are likely things you'll replace fairly quickly, but it's still a nice thought.
But what about the XD-S itself? Well, it's a lightweight, single-stack, polymer pistol that's literally designed for carry. The one I purchased is the four-inch solid black variant which is chambered in 9mm. Weighing in at just 25oz, the XD-S is so light that you can actually forget you're carrying it. Of course, any small weapon will take some getting used to, especially if you have large hands, but this was one of the most comfortable weapons I've ever used.
Beyond the notable size, or lack thereof, the rest of the features are cherry-picked from the best of the Springfield XD and XD-M lines. Anyone who's ever carried a striker-fired weapon can attest that, overall, they tend to be more comfortable for the long haul than a more traditionally designed weapon. The XD-S is also loaded with safety features, despite the lack of a manual safety, by way of both grip and trigger safeties. In fact, its trigger safety is the best designed I've ever seen. Many manufacturers favor a two-part trigger safety that's hinged in the center. While this works in principle, it's also painfully easy to bypass these hinged safeties. Don't believe me? Stop by your local gun store and try it for yourself. A little pressure on the side of the trigger is enough to allow a full trigger pull. The XD-S breaks from the trend by incorporating a "sandwich" style trigger; rather than hinging in the center, the trigger safety floats in the center of the trigger. As a result, it's literally impossible to accidentally discharge the weapon without putting even pressure on the trigger. Rounding out the design are aggressive checkering, a built-in rail, and ambidextrous magazine release, making this a feature-packed little beauty.
Moving on to the sights, the XD-S features three dot sights in transverse dovetails, the front sight having the added benefit of being fiber optic. It's not perfect, but for a mass produced weapon it's not bad. Between the sights rests one additional safety feature: a low-profile loaded chamber indicator. This is another aspect that Springfield did incredibly well on. Many manufacturers seem to think a loaded chamber indicator should be a work of art. Let's be realistic; the purpose of a loaded chamber indicator is so that you can quickly and easily determine whether or not your weapon is loaded. Period. But, how often do you actually look to see if the indicator is raised? Probably not too often. Personally, the only time I actually use the loaded chamber indicator is when I holster the weapon while getting dressed in the morning. Sure, the first few days I visually checked it, but for the most part, I just run my finger over it to ensure it's raised like it should be. So why do so many manufacturers insist on making them colorful, engraving things on them, or otherwise making them feel "artsy"?
Range Report
As I previously mentioned, the XD-S takes a little getting used to. If you have large hands, it may be almost mandatory for you to use the larger magazine with the pinky extension to get enough of a grip to maintain control. I don't have huge hands, but it still took me a few magazines to adjust to the smaller grip. Not to say that I did horrible my first time using the XD-S, but it certainly wasn't the tight grouping I'm used to. A few dozen rounds in and I was consistently getting a tight grouping at 15 yards. By my third range visit, I was consistent and comfortable enough to start using the XD-S as my primary carry.
Disassembling the XD-S for cleaning is also a breeze. I've seen seasoned shooters struggle to disassemble a Glock with two hands… as an experiment, I ran through the process of disassembling the XD-S with one hand. It's clumsy, but completely possible. In front of the slide release is a breakdown lever similar to the one found on most Berettas. Flip the lever up, make sure the chamber is empty and the magazine removed, pull the trigger and it just slides apart. Simple as that!
The Family
The XD-S family is small, but has been universally well-received. It is currently available in 3.3″ and 4″ models, with both available in black and two-tone. The 3.3″ model is available in 9mm, .40SW, and .45ACP, while the 4″ model is 9mm and .45ACP only. The retail prices are all in the $500-$600 range, making this not only a feature-packed series, but an affordable one as well.
Conclusion
In the last year, I've managed to intentionally or unintentionally convert several die-hard Glock fans to the XD family. That alone has to say something! However, on a more personal note, my experiences with the XD-S have been nothing short of wonderful. No matter how many times I take it to the range, it's still fun to shoot and, as I previously mentioned, it's so well designed that I've actually forgotten I was carrying it. I've made purchases over the years that I've regretted, but after a year of carrying my XD-S I don't regret a thing about this purchase!
(Visited 295 times, 1 visits today)