A few months back (alright, seven months back), I talked myself into buying a P229 Legion and was planning on writing a review around Christmas. Well… that didn't happen. Life interfered, I got busy, and by the time I had the free time to write the review… I'd forgotten that I was going to write it. It's time to remedy that!
Unlike so many of my purchases, the Legion wasn't just an impulse buy. All too often, like many of you, I find myself at my LGS and see something new and pretty and just decide that I have to buy it. Oh well, that's the curse of being a gun owner. In this case, I was after something specific. Anyone who has read more than one or two off my posts can tell you that, by and large, I favor two types of handguns: striker-fired weapons for every day carry, and 1911s because… well, they're 1911s, need I say more? In this case, I was specifically looking for a weapon that had a decocking lever… good luck finding a striker-fired weapon that includes one.
Over the course of my research, I was at one of our local ranges talking to a buddy who worked there, and he suggested checking out SIG. I'd never heard anything but glowing reviews of the Sig line, but hadn't actually owned one myself up to that point, but figured what the hell. The range in question has a full rental counter, and happened to have a P229 Nitron available. I decided to give it a shot (so to speak), and put fifty rounds downrange with the rental P229.
Now anyone who's ever rented a firearm knows that rentals are rarely accurate portrayals of what a new-in-box equivalent is like. They're rarely cleaned often enough, beat to shit by people who have no business firing, let alone owning a weapon, and just generally take more of a beating than your average off-the-shelf weapon. Despite obviously needing a good once-over, the low-end P229 shot as well as many of my personal collection. Over the course of that fifty rounds, I consistently hit groups that were the size of a half dollar. Needless to say, I was impressed. I started to do some research on the P229 family, and the rest is history.
The Family
The P229 family currently sports five models. On the proverbial low end of the totem pole is the P229 Nitron Compact that I first test fired. Though I've seen the Nitron offered for a fairly wide price range, it seems to average out at just about the thousand dollar mark. On the high end, the Legion (we'll get more into what the Legion Series is later) will set you back about $1200 to $1400. The entire P229 family is available in 9mm, while the Nitron and Legion are also offered in .40 and .357, and the Enhanced Elite is available in .40.
The Legion Series
When they announced the Legion series, SIG executive director and general merchandise manager Jeff Creamer said "We have worked with elite SIG users for years as we have developed the Legion. We wanted to know what custom features professionals were seeking as factory enhancements. The result is a line of high performance firearms and accessories that deliver not only what elite users need, but what they want."
That's a pretty high bar to set, I don't care who you are. Have you ever bought a new weapon, taken it home, and immediately started thinking about what you should (or could) replace on it? I know I have! It's rare that I purchase something and don't find some way to tinker with it almost immediately. Sometimes it's because "that particular thing could be done better," sometimes it's just because I want my gun to be truly my gun but, whatever the reason, almost everything gets modified in some way. As gun owners, we're a pretty finicky bunch… everything has to be just right, so the promise of a weapon that is what we want out of the box is a fairly lofty goal.
Today, Legion series variants are available for the P229 Compact and P226 Full Size families, but SIG has said they have no plans of stopping there; they want to see a full range of weapons built to the Legion standard. Only time will tell if they can actually hit that mark.
Beyond the promise of an optimized weapon off the shelf, the actual Legion experience begins when you register your new handgun. Registering a Legion can be done two ways: you can call SIG and provide them with the serial number, or fill out a form on their website. Once your Legion is registered, you are sent a custom Thermo-Mold case your your weapon, and get access to the Legion section of the SIG website. "Joining the Legion" affords you access to a number of Legion-specific products from a number of companies ranging from Surefire to Blackpoint Tactical and even custom knives from makers like Emerson and Rick Hinderer.
First Glance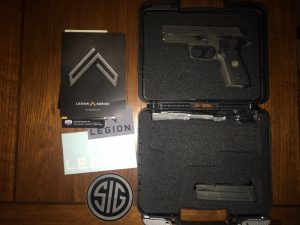 As with so many major manufacturers lately, the Legion comes in a simple, but functional injection molded case with the basic foam padding and cutouts for the weapon itself and a single magazine. Additionally, you receive the typical owners manual, a special guide to the Legion series, and several SIG and Legion-specific decals. Nothing super fancy, but certainly not unwelcome.
The P-229 Legion itself isn't terribly dissimilar in appearance from its base-level counterparts. Unlike the standard matte black that most of the series is built around, the Legion comes with an all-gray PVD finish. However, the changes don't end there.
For the Legion series, SIG designed a completely new set of sights that they call X-RAY3 day/night sights. The rear sights have two small Tritium dots which are actually noticeably smaller than those used in their standard SigLite rear sights. The front sight is a larger Tritium dot surrounded by a green fiber optic circle. This combination results in a set of sights that is equally visible in daytime and low-light conditions. Interestingly, the smaller rear sights are actually a good thing. All too often, manufacturers put virtually identical dots on the front and rear sights. By dwarfing the rear sights, it makes the front sight immediately identifiable even in the worst shooting conditions and makes lining up the sights that much more straight forward.
Similar to the Enhanced Elite model, the Legion sports a much more aggressive beavertail than the rest of the family. However, the beavertail on the Legion is slightly smaller than the Enhanced Elite and has been reshaped allowing for a slightly higher grip on the weapon. For those who consider the P229 for a carry gun, these changes, while slight, actually make a world of difference.
Moving on to the grip, the Legion features true checkering rather than the more subtle texturing on the lower end P229s. Above the checkering, the is an undercut similar to that found on the SIG X5. Again, like with the beavertail, this allows a slightly higher grip on the weapon. Additionally, SIG added additional checkering to the underside of the trigger guard to help prevent your support hand from moving. The actual grips have been upgraded to a custom G10 material that is both aggressively textured and surprisingly non-abrasive. At first glance, I expected the texturing to be uncomfortable on a carry weapon. After carrying the Legion for seven months, I don't actually notice it 99% of the time. The center of the grips, because branding, sports a medallion bearing the Legion logo.
Finally, while the P229 line has always had slide serrations on the rear of the slide, they've added serrations to the front of the slide and, because branding (again), the Legion logo is engraved on the top of the slide just behind the rear sight.
If you've ever had the chance to use any of the other P229 models, you'll immediately notice that the controls on the Legion received a bit of a makeover as well. While they work fine across the board, they are now ever so slightly more low profile and the basic grooves present on the rest of the line have been replaced with a more aggressive checkering on the slide stop and decocking levers. While it's a small change, I've found that it's one I actually like. The smaller profile makes the controls feel less "in the way" than they can on the rest of the line, especially when carrying IWB.
The Swag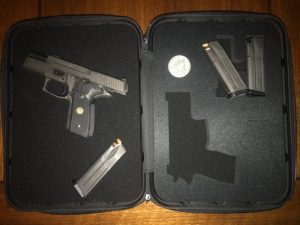 As I previously indicated, registering a Legion comes with its own share of goodies. In this instance, it's probably a good thing that I didn't get the review posted as quickly as I had planned, because it gave me time to actually register mine and wait impatiently to see what they were going to send me. Registration was surprisingly simple, taking all of about five minutes, and I got my package from SIG in give or take three days. Pretty good considering that I can't mail a letter to my neighbor without it getting lost for a month (does anyone actually do that kind of thing anymore? Maybe I'm just getting old…)
While not the most secure case in the world, the custom case I received is definitely among the prettiest I've picked up to date. Again, it's nothing super fancy, but the Legion logo adds a definite "coolness" factor to it. I also received a Legion-branded challenge coin, and two additional magazines. Not bad for just filling out a quick form on their website!
Range Report
Ok, so the Legion is a pretty handgun… but how does it actually perform? I've said it before, and I'm sure I'll say it again; in a carry weapon, performance is significantly more important than appearance.
After seven months of daily carry, I've had ample opportunity to put the Legion through its paces. While I definitely have my preferences in terms of ammunition, I've run everything from super-cheap ball ammo through my preferred JHP through it and haven't had a single malfunction to date. Simply put, it can handle anything I've thrown at it. Not the first time I've seen a weapon that will eat anything, but a welcome tidbit nonetheless.
With my experience with the "rented" Nitron as a baseline, I had high expectations for the Legion. I definitely wasn't disappointed. Beyond the differences I outlined earlier, there's a few more "functional" changes that contribute to the accuracy and reliability of this series. First off, the guide rod is now stainless steel. This change adds a little extra weight under the barrel which actually has a huge impact on muzzle flip… which in turn means faster follow-up shots and more accuracy.
The trigger has also been given a makeover, though calling it a makeover seems woefully inadequate. Your average SIG has a reset of close to half an inch. The new trigger they're using in the Legion series is a GrayGuns, Inc. Precision Adjustable Intermediate Trigger. Out of the box, the reset on this beautiful trigger is closer to around an eighth of an inch. That's a massive change of pace that completely changes the feel of the weapon. But beyond the crisp trigger and silky smooth reset, the P-SAIT trigger manages to pull off (pun intended, I think) being comfortable and elegant for both single and double-action shooting.
The double-action trigger pull measures in at eight and a half pounds on the dot, and the stacking commonly seen in the lower end models is gone, providing a much smoother, more constant trigger pull. While I'm not a revolver fan, I've been told that the trigger pull on the Legion is reminiscent of what is found on double-action revolvers. As anticipated, the single-action trigger pull is significantly lighter, measuring in at all of four pounds.
In terms of accuracy, the internal changes to the Legion resulted in a weapon that is, truly, a dream to shoot. I'm sure there are people here who have tested, and probably owned, more handguns than me, but I've run through my fair share… and I don't think any of them have performed as well out of the box. Even running rapid fire drills, I was able to consistently keep a group under two inches with minimal effort.
Conclusion
When they first announced the Legion series, SIG promised an exceptional weapon. In my personal opinion, they delivered. After using it as my daily carry for seven months, I still can't say I regret the purchase. It's a beautiful weapon that handles beautifully… what more could I ask for? Surprisingly, the custom PVD coating has also performed as advertised and, despite all the rounds down range, all the drawing and reholstering the weapon, it's held up remarkably well. In fact, after more than half a year, my Legion still looks nearly as good as it did the day I first unboxed it. That's saying something, since virtually every weapon I've owned started showing some signs of wear within a few months, if just from rubbing against the holster every morning when I put it on.
Is it worth the price? That's up to you. In my book, I put the value of a daily carry at the same point that I value my life. After all, in a worst-case scenario, your weapon is there to literally save your life. I don't know about you, but that $1300 price point isn't hard to take when compared to losing my life. Granted, I got one hell of a discount on my Legion, but I would have happily paid full price for it.
(Visited 514 times, 1 visits today)