A while back, I made a post about conditional widget plugins. After reviewing several, I concluded that the best options were Display Widgets and the commercial Widget Ninja. Well, since then I have discovered another option that wasn't reviewed in the original post and it has, by far, eclipsed every possible plugin from the original post.
The Winner
Hands down the cleanest and most flexible plugin in its category, this gem is available in both free and paid forms.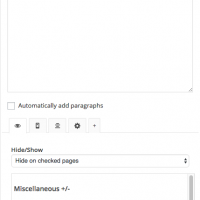 Unlike so many similar plugins, Widget Options is a massive powerhouse affording a wide range of options for controlling widgets. Widgets can be controlled based on a wide variety of criteria beyond the normal pages, posts and custom post types. You can specify to hide or show widgets based on device (hiding widgets on mobile devices is awesome), control widget alignment, and add custom IDs and classes on a per-widget basis. Those functions alone make it an incredible option, and that's just the free version!
The Widget Options codebase isn't pristine, but it's far from as roughshod as some of the widgets reviewed in the original post. One thing that is remarkable about it is that every last detail of the plugin is thoroughly documented and actions and filters abound. If you need to modify the default behavior (or add something custom), it's a fairly straightforward process, though I doubt you'll ever need to.
With the impressive feature set of the free version, it's pretty apparent that the commercial version is going to be epic. At $16, Extended Widget Options is indeed affordable, but what does that $16 get you? Regarding logic, the commercial version adds support for controlling widgets based on user role, date/time (including date ranges), extended terms and taxonomies, and a remarkably powerful conditional logic system. Beyond that, how about adding support for custom widget styling on a per-widget basis? Fine-grained control over positioning per-device? Multi-column widget support? These features are included in the commercial version, and Extended Widget Options is under active development with new features being added all the time!
In Conclusion
Even without the $16 price tag, I've switched over to using Widget Options on virtually every site I run. In some instances, it's also proven worthwhile to cough up the cash for the commercial version. Thus far, I've been quite happy with this setup… it's powerful, clean and incredibly straightforward. If you're in the market for a widget control plugin, this is now officially my recommendation!